Two Years After the Supreme Court Ruling, Virginia and Maryland Wineries are Still Sorting out the Impact
On December 7, 2004, the Supreme Court listened to the arguments in Granholm v. Heald. The Michigan case which, wrapped together with litigants from the State of New York, challenged the rights of states to allow in-state wineries to self-distribute product while legislating that out-of-state wineries must utilize a wholesaler. Small wineries awaited the high court's ruling with great anticipation, many believing that the ruling could be a boon to America's wine industry, opening the door to an era of unprecedented growth.
While awaiting the decision in December of 2004, Kevin Atticks, executive director of the Maryland Winery Association, said that the potential impact on Maryland's wineries, most of which are small or boutique wineries, could be huge. It was Atticks' belief, depending on what the Supreme Court Justices opined, that the decision could open up new markets for Maryland's product. Atticks did later qualify his comments, with the May 2005 announcement of the high court's decision, saying that any impact would not be immediate.
Cautious optimism arose among vintners in Maryland in the wake of the Supreme Court's 5-4 ruling that diminished state power to independently regulate sales under the 21st amendment in favor of the 14th amendment's "Interstate Commerce Clause" that provides that all states must provide a level playing field for in- and out-of-state businesses.
Because of written, and often unwritten laws and understandings, a number of states suddenly found themselves out of compliance with federal statute. Virginia and Maryland are a microcosm of what different state's options were in the wake of the ruling.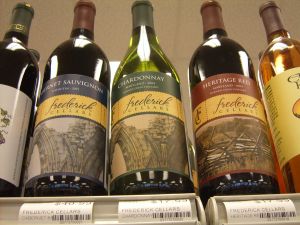 Product from Frederick Cellars, its opening last year aided by
changes in Maryland legislation, has found its way onto the shelves of Maryland liquor stores
Virginia laws regarding shipping for the in-state wineries were such that the ability of the wineries to self-distribute fostered a boom in the Virginia industry, growing the state from just six wineries in 1979 to a number that currently exceeds 100. According to a study released in 2005 by the Maryland wine industry comparing the two state's industries, Virginia had as few as 46 only 12 years ago. As of July 1 of 2006, "it became illegal for Virginia Wineries to self-distribute," said Ann Heidig, president of the Virginia Wineries Association and owner of the Lake Anna Winery in Spotsylvania, VA. "This was the result of conforming Virginia law with the court ruling making it unconstitutional to allow Virginia wineries to self-distribute but making out of state wineries use a distributor."The reason it became illegal, explained Carl Henrickson, the wine writer for Celebrating Virginia Magazine, is that Virginia afforded self-distribution to in-state wineries while denying that same ability to out-of-state wineries that are positioned close enough to Virginia borders to take advantage of self-distribution, a clear violation of the interstate commerce clause.
During February of 2006, with the State of Maryland's facing litigation regarding direct shipping then Comptroller William Donald Schaefer issued an edict repealing a long-held right for the state's wineries to act as their own wholesalers, restricting in-state wineries from being able to sell directly to local stores and restaurants, in order to bring the state into compliance with the Granholm Case. The effect was felt throughout the state as entrepreneurs like Charles Daneri of Frederick Cellars,and Sarah O'Herron and Ed Boyce of Black Ankle Vineyards of Mt. Airy, all of whom were still working towards opening their vineyards, rethought their choices to enter the industry. Daneri, testifying before committee in Annapolis, said that he was able to secure approximately $400,000.00 in loans to open his winery based on a business plan that allowed for self-distribution. Daneri told state lawmakers that he was counting on those revenues for Frederick Cellars to be successful.
Atticks stressed at the time to those lawmakers that with 18 new vineyards scheduled to open between the beginning of 2006 through early 2009 it would be important for the growth of the industry to preserve some form of self-distribution.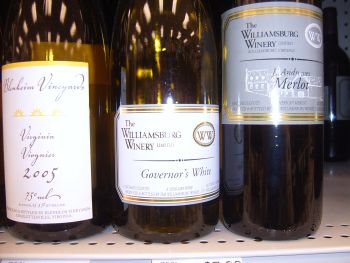 A selection of Virginia wines from a shelf in a Maryland liquor store
While the Virginia legislature was working to restrict wineries in the state from being able to self-distribute, Maryland's politicians were scrambling to find a way to avoid placing restrictions on what many were still considering a fledgling industry in the state. "Our efforts last year were to keep small wineries' ability to self-distribute their wines, something they've been able to do since 1951," said Atticks. Part of the compromise struck with the state's wholesaler lobby was that, "wineries [producing] over 27,500 gallons lost that ability with last year's legislation." The legislation, in keeping with the Granholm decision, allows for any winery from any state to self-distribute in Maryland as long as its production is below that threshold. Atticks said that he believes that the only out-of-state wineries in position to take advantage of that would be ones within an easy commute of Maryland's borders in Pennsylvania and Virginia.Virginia has worked on similar legislation with bills being defeated in both the House and Senate said Heidig. "Legislation was introduced by Del. Chris Saxman (R. – Dist. 20) of Staunton, VA. on the House side to allow any winery to obtain a license to self-distribute up to 10,000 cases. A similar bill was introduced on the Senate side by Senator John Watkins (R. – Dist. 10) These bills did not have the votes necessary to get the legislation to the floor. Senator Hangar developed a compromise proposal which directs the Commissioner of Agriculture to establish a not for profit, non-stock corporation as a 'public instrumentality exercising public and essential governmental functions to promote, develop and sustain markets for licensed Virginia wineries and farm wineries…Such corporation shall provide wholesale wine distribution services for wineries and farm wineries…' We are currently working on the details. Funding for positions at the Virginia Department of Agriculture and Consumer Services has been included in the budget. The legislation has not been signed by the Governor, but goes into affect under an emergency enactment clause as soon as its signed," she said.
As Henrickson explained it, if the governor signs the bill, it will create a license that wineries will have to obtain, but he questions, "will they provide trucks? A distribution network?" These are among the details that need to be worked out.
While the two states appear to temporarily be headed in opposite directions, Maryland more permissive and Virginia more restrictive, the overall impact of governmental reaction to the case on the industry has been anecdotal at best.
Heidig points out that there has been more impact on grape growers than vintners, but does acknowledge that the current governmental debate could be scaring off newcomers to the Virginia industry. "We have no indication that there has been any impact on wineries," she said. "Since it just went into effect in July, we have had little time to assess specific impacts. We believe that some people delayed making the decision to start a winery. I do understand that some grape growers have had contracts canceled as wineries cut back on production as a result of the law change."
With a reach that goes beyond the winery, Henrickson sees last year's sudden restriction as having a broader impact — as having a trickle down effect, so to speak, from winery owner to retailer. "This isn't just about small farm wineries," he said. "There's a much bigger picture here. It's also about agritourism, preserving our open spaces and" about business relationships.
To illustrate his point, Henrickson told the story of Dye's Winery in Honaker. This time last year, explained Henrickson, then owner Kenneth Dye was in the process of selling the winery to Scott Mecimore who changed the name to Rural Retreat Winery and Vineyards. Dye, "had a deal with a small grocery store chain that had about 10 stores. [That vineyard] was a local provider, and with a stroke of a pen, the state legislature killed that deal. Their failure to act made that [lucrative] business relationship illegal," he said. "Mecimore bought that vineyard from Mr. Dye as the whole distribution issue was coming down," but was unaware that he was in jeopardy of losing that contract.
Maryland, which has experienced considerably slower growth, is finally beginning to see signs of the boom that swept neighboring states Pennsylvania and Virginia over the last 20 years. Since the beginning of 2005 alone, Maryland has grown from 16 wineries. "The Alcohol and Tobacco Tax and Trade Bureau [of the US Department of the Treasury] lists 31," said Atticks. "Of those, 26 are Maryland Class 4 wineries. Others are either in the process of licensing, or are not true wineries – they're rectifiers or vinegaries."
According to a forecast contained on the Maryland Grape Grower's Web site, the organization has projected over the five year period starting with 2005 that the state will close to triple the number of wineries with approximately 44 operating in the Maryland by the end of 2010. However, this stays with the same average number of openings per year attained previous to any plausible impact of the Granholm case.
However, last year the Maryland industry proportionally experienced it's second largest increase in sales and production over the previous year when it recorded an 18.6 percent jump in sales, topping out at over $10.6 million in sales for the first time in the state's history, second only to 2004 when the industry grew by 23.3 percent.
With 191,859 gallons sold, accounting for 968,333 bottles in 2006, the year-end sales stats were the best in Maryland history. While impressive for Maryland, the numbers also illustrate how far the state still lags behind Virginia. The Virginia Wineries Association, which has not updated their industry statistics since 2004, last reported that their members produced 762,000 gallons accounting for 231,000 cases and approximately $45 million in sales.
Originally published by Wine Business Monthly on June 19, 2007.